New Approaches for
HELOC Marketing
Back in the heyday of home equity lines of credit (HELOC), between 2000-2007, it seemed every homeowner needed a HELOC for a rainy day fund. It could be used for anything – medical expenses, legal fees, credit card debt, auto, boat, and of course home improvement. Financial institutions (FIs) back then were only too happy to lend, even exceeding 100% of a home's equity.
Today's environment is very different – for lenders and consumers alike. HELOC marketing needs to be different, too.
Consumers opening HELOC's today are split 50-50 between periodic users and revolving users (see chart on left below). This is much different than years past, when the distribution more heavily favored future need (tilting the HELOC accounts to nearly 60% periodic users).
What does this say about the marketing opportunity for HELOC accounts – and for the acquisition and activation of such accounts?
Great opportunities for FIs, both in acquisition and activation, can be found in the 21-44 year-old age group (see chart on right below). Typically, this is the life stage where people are getting established, many with families, and a big appeal of HELOCs with this group is home improvement.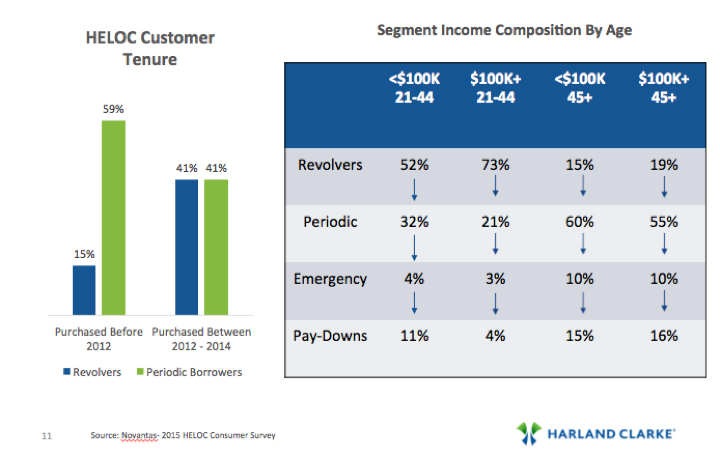 For FIs, this presents opportunities on three fronts:
Identifying and growing small business relationships (with home improvement providers)
More customers are using HELOCs for home improvement, which increases the value of the home (and thus the collateral value supporting the loan)
Getting HELOC accounts with immediate ROI that don't need activation treatment (activation treatments typically include interest rate specials that erode the net interest margin and profitability)
Unlike a decade ago, activation activities today are much more predictable. Thus, in order to maximize portfolio profitability, early identification of inactive or periodic borrowers is important. Once identified, these inactive borrowers should be targeted quarterly with marketing materials that educate them about the variety of uses for HELOCs.
For many borrowers, HELOC rates are more competitive than the credit cards in their wallets. One way that FIs can compete for older borrowers – say, over 41 years of age – who are more experienced and savvy, is to establish a reward-based program (more than just "tax deductible") to acquire more consistent balances.
These are just a few of the ways that FIs can re-think their HELOC approach. We aren't in the heyday of anything goes – which is a good thing – but there are many opportunities to be had for FIs that know where to look.