Large Enough to Matter but Small Enough
to Care
Are credit unions realizing size really does matter?
Nearly four out of ten credit union CEOs say merging with other credit unions is a key growth objective for 2016. This is up significantly from their responses to the same question for 2015.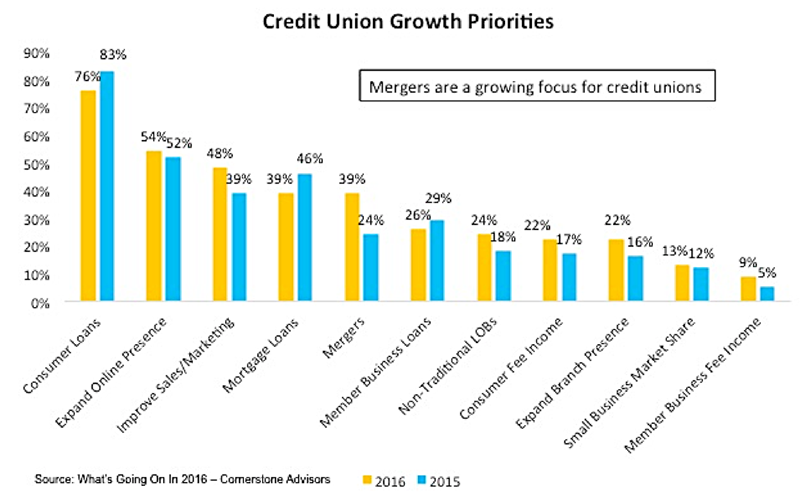 Credit union mergers are nothing new. Thousands have taken place over the past decade. In fact, mergers have increased the average size of credit unions by 30-fold since 1969.
But, why the increased focus on mergers by CEOs?
First, mergers "improve credit union cost efficiency" for both the targeted credit union as well as the credit union driving the merge. Better cost-efficiencies translate to reductions in the cost of serving the membership. When all is said and done, members end up with better rates and terms on credit and deposit products.
Second, and just as importantly, CEOs understand that in order to better compete, branch presence, digital and mobile capabilities, product line breadth and depth, etc. really do make a difference in attracting and retaining account holders.
Credit unions have an uphill battle in that endeavor. The average credit union in the U.S. is only a fraction of the size of the average bank… about $194 million in assets compared to about $2 billion in assets.
No doubt, this size disparity makes it difficult for many credit unions to convince consumers that it has all of the products and services an account holder will need throughout their financial life stages. With the larger size comes the products, services and channels members look for when establishing a primary relationship with a financial institution. That may help to explain why 200 to 250 credit union mergers have occurred annually over the past few years with an expectation that mergers will continue at that rate for years to come.
Are you one of the hundreds of credit unions going through a M&A this year. If so, learn how your communications strategy can make or break your relationship with acquired members in this white paper.