Social Media Becoming A Major Player With
Financial Institutions
In order to build relationships and increase conversions, businesses must be visible to their customers and, in many cases, this means a social media presence. While major brands have been working to build social communities since Facebook® first began, one-by-one financial institutions are  finding ways to create their own social media buzz. Take a look at any financial institution's website, and you are likely to see some, if not all, of these social media buttons leading current and potential account holders to their social media sites.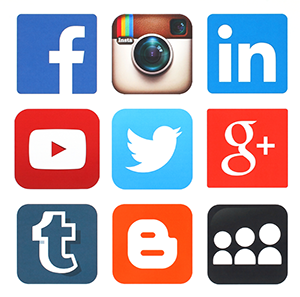 Financial institutions are taking their marketing messages to where people, especially younger generations, are spending their time. Bank of America's® Facebook page has over 2 million likes. Chase™ has 300,000 Twitter® followers. TD Bank™ has made big splashes using YouTube® with their "Sometime You Just Want to Say Thank You"campaign, which has over 22 million hits.
Sometimes, having a social media presence is not enough. It's essential that the message is relevant. Financial institutions have found ways in the past year to not only provide bank information and videos with account holder comments, but also non-banking topics. For example, Bank of America has taken the need for relevancy a step further with its "The Business of Life" video talk show, which uses a wide range of panelists to discuss subjects that are important to the Millennial generation. "The Business of Life" is produced by Vice Media and jointly promoted through Pinterest.® Bank of America hopes the program will present economic news to all generations and incomes using a non-traditional form of media. As of this October 2015, "The Business of Life" has over 11 episodes with topics ranging from, "Why Pay Your Taxes" to "Why is College so Expensive." Bank of America has seen 30 percent of its "Better Money Better Habits" website traffic come directly from Pinterest. According to Bank of America, "We've been successful on Pinterest, because we've listened to what the community wants to know, what people are searching for and customized our content to meet those needs."1
Financial institutions need to think outside the box when looking for ways to be relevant in social media. Not only is important to utilize the right channel, but also promote the right message/content in order to drive business.
Source:
1. "Bank of America's Millennial Marketing "Pays Off" with Pinterest." August, 18, 2015.