Capitalizing on Home
Equity Opportunities
Background
Throughout the late 1990s and early 2000s, home equity lines of credit (HELOCs) were a popular loan choice among consumers. Large numbers of those HELOCs — many of which had 10-year terms — are now reaching maturity in the marketplace and migrating from the draw period to the payout period.
HELOCs typically require interest-only payments during the draw period. In terms of payout, consumers usually have two options: 1) make a balloon payment to eliminate the HELOC balance, or 2) repay the loan based on an amortization schedule that includes principal reduction as well as interest. Harland Clarke research indicates that consumers face a significant payment increase with either option, ranging from 58 percent to percentages in the thousands (see Figure 1).
Figure 1: HELOC Payments

Such substantial percentage increases, combined with lingering economic effects of the most recent recession, have created legitimate concerns among financial institutions that delinquencies will rise and loan outstandings will be lost. Consumer incomes have not increased at a rate that keeps pace with HELOC payment increases. And the sluggish economy has slowed the U.S. move rate and kept many homeowners in the same property for longer periods of time, thereby decreasing the likelihood that the HELOC would be satisfied through the sale of a home. Additionally, lower home values have driven loan-to-value ratios higher than currently acceptable underwriting standards, making it impossible in many cases for homeowners to refinance the HELOC into a combined first mortgage. This is particularly true of HELOCs with higher balances.
Opportunity
Financial institutions have a timely opportunity to reduce delinquencies and retain loan outstandings from HELOCs. Given that regulatory changes and other market forces have contributed to a decrease in fee income during the past few years, HELOCs can help banks and credit unions maintain income and maximize return on investment from a relatively secure source. Plus, with loan-to-deposit ratios in the $0.70 on the dollar range for most institutions (see Figure 2), the importance of maintaining HELOCs is critical.
Figure 2: Loan-to-Deposit Ratios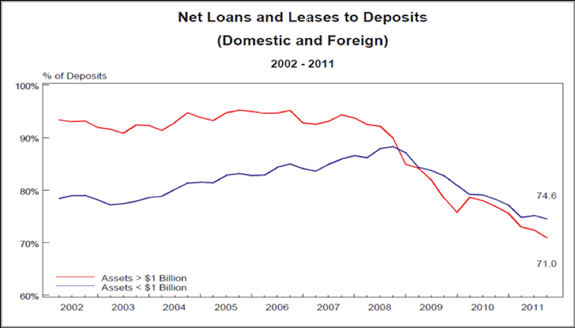 Source: FDIC Quarterly Banking Profile, Q3 2011
Recommendations
To help resolve consumer and institutional pain points around HELOC payment increases, banks and credit unions should develop a strategy for communicating proactively with customers and members who have HELOC accounts. This includes:
Pre-change communications. Beginning a year or more before the start of the payout period, banks and credit unions should communicate with HELOC account holders and alert them that they are nearing the end of the draw period. Although these communications are more bulk in nature, they can include some degree of personalization that provides an idea of how much the HELOC payment will change. They can also initiate a discussion of options for account holders, such as beginning to pay down the principal balance before the end of the draw period or refinancing.
One-to-one communications. After reviewing individual account holder situations, financial institutions should send pre-screened offers with refinance or loan modification options. These offers should begin approximately six months before conversion and run parallel to pre-change communications. If an all-in mortgage refinance is not possible for certain account holders, institutions could offer longer amortization schedules than the HELOCs provided as a means of lowering monthly payments. They could also consider referring account holders to lenders that do high loan-to-value underwriting.
To learn more about how Harland Clarke can help your financial institution maintain income, reduce delinquencies and retain loan outstandings, click here or contact your Harland Clarke account executive.